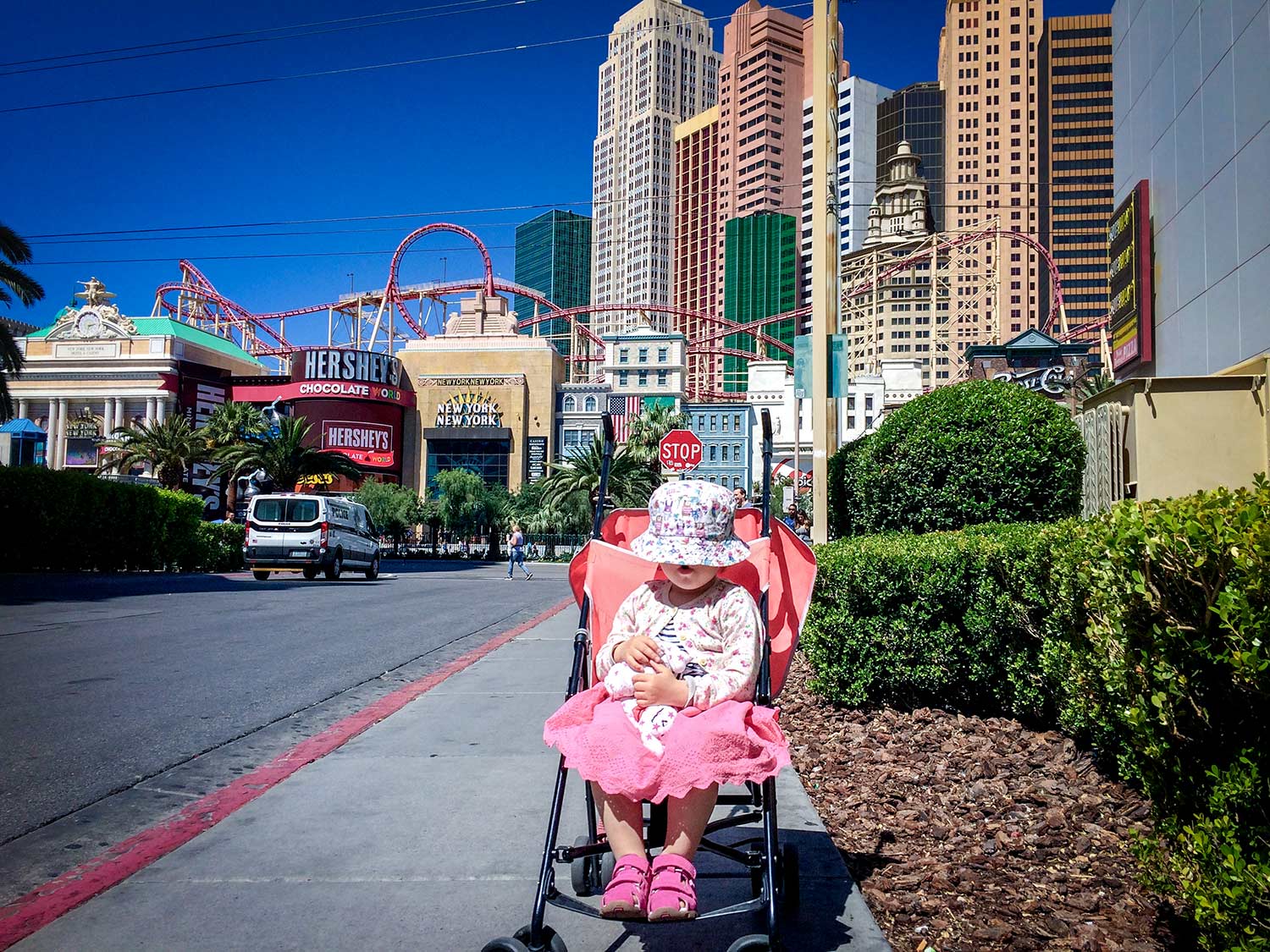 Las Vegas: A place for children?
It was our fifth visit in Las Vegas, NV. At our first visit we got married there and since then we have been here a couple of times. Las Vegas is an internationally renowned major resort city known primarily for its gambling, shopping, fine dining, entertainment, and nightlife. It is the leading financial, commercial, and cultural center for Nevada.

Hospitality
Of course a trip to Las Vegas with children is different. While we stayed the last times on the strip (New York-New York; Aria; Mirage, MGM) we rented this time a house near the strip. I had to fix some little things on our new (old) car and for the same money we would have spend on a hotel room, we got a whole house. Our daughter loved it right away. And I was lucky to park directly in front of the house and not in a parking garage where you have to run about a mile to get to your hotel room. In addition most hotels start charging fees for the parking. So to put in a nutshell: more space, no resort fees, no parking fees, short walking ways, however some miles away from the strip…
The world's biggest playground
There are some restrictions, when you make a trip to Vegas with children. For example you are not allowed to stay in the gambling areas and you are probably not able to experience most of the shows and other entertainment. But there are loads of other things to do. Our daughter loves the food, the lights, the attractions and the music everywhere. Every hotel has its own theme and it is even fun to walk through all these different places. Sometimes you feel like walking through New York City and after a few steps you feel like you are in Paris or Venice. It's basically a big playground for adults besides gambling. By the way, we recommend a stroller, because the ways are long even for adults.

So what to do? It depends on the interests of your kids.
Our daughter loves fishes.
The Silverton Casino has a huge aquarium with hundreds of big fishes – even two big stings-rays. Also you can see there every day a real mermaid. Definately a visit worth. It is not on the strip and it is a free attraction. There is also a huge "Bass Shop Pro" with even more aquariums and other cool stuff.
The Town Square is another place to go with childen. There is a big adventure playground with water fountains. Don't forget to bring swimsuits and shoes that can get wet.
The Las Vegas Strip in general:
Bellagio with its beautiful garden and the big water fountains.
Cosmopolitan with its wicked spoon buffet ($36 p.P.).
Mirage with its vulcano and "Siegfried & Roy's Secret Garden And Dolphin Habitat".
Venician with its remake of the canals of Venice.
The Eiffel tower, Stratosphere Tower, M&M Store and Coca-Cola Store.
and so on…

The bottomline is:
Go and visit Las Vegas with your children.
You'll have a blast.